Home » Adventures » Great Superior Adventure
Great Superior Adventure
September – October 2016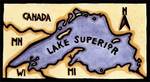 After a road trip across Canada from a summer spent in Alaska, I made a nearly two month stop for a tour of the upper Midwest near, on, and along Lake Superior, visiting Michigan, Minnesota, and Wisconsin. I pushed my luck with the weather very late into the season, but enjoyed the fall colors without any annoying bugs, although Lake Superior was slightly more likely to try and kill me.
The places I visited included:
Throughout these stops I inadvertently hiked over 400 miles of the North Country Trail, which incidentally is not on my list of long trails to hike.