Home » Adventures » Grand Canyon » Tonto Trail
Grand Canyon: Tonto Trail
April 24, 2014 — Hance Rapids to Boulder Creek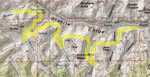 Route I hiked this day
I drank a lot last night and again in morning before I headed out along the Tonto Trail with a gallon of water on my back (the limit of my bladders' capacity). I caught some morning shade as I made my way around Mineral Canyon, but soon I hit exposed sun, which kept me company for the rest of the day. Hance Creek Canyon was a massive, huge chasm that required walking several miles out and back along its rim to be able to cross its wide, deep mouth. I was fortunate as Hance Creek was running, and I chugged down more liquid gold. Unfortunately I did not have further intel on later water sources, so I still had to carry the maximum amount of water out of there.
A traverse around Horseshoe Mesa brought me to Cottonwood Creek — which was also flowing — where I enjoyed lunch in the shade below a cliff. Quite a few tents were pitched here, but no one was around — probably out exploring the canyon for the day. With two water sources described as "sometimes unreachable" running strong, I made a calculated risk and assumed the next water at Grapevine Creek would also be available and did not top off my reservoirs.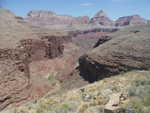 Hance Canyon
Along this stretch I only had occasional views of the Colorado River, but the ones I had were astounding. The river was often 1,000ft below the shelf I was on, and cut through a sliver of a canyon with sheer rock walls. The endless scale of the canyon was continually amazing.
The canyon at Grapevine Creek was also massive, with abrupt cliffs just yards from the trail dropping hundreds of feet straight down. In one spot the ground sloped steeply from the trail and over one of these nearby edges. A misstep here would have been impossible to recover from before the abyss. The footing on the trail was solid, but the fact of the deadly, nearby cliff kept rattling in my head for a bit too long, making me overly nervous. That, combined with a bit of vertigo from the cliff made me cease up, and I had a gut clenching, pins and needles walk for several hundred yards in this narrow section. I survived though and continued traversing around Grapevine Creek (which also had water) till making the last push to Boulder Creek.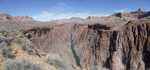 The weight of carrying lots of water all day was weighing on me (pun intended), and I was very glad to finally arrive at camp at Boulder Creek, even if this creek finally was dry. I should have enough water though to last the rest of the way. If all the water sources had been dry today though, I would have been in quite the pickle. I drank over a gallon (more than I carried out this morning), but still barely peed, and I have yet another day left.