Home » Adventures » Grand Canyon » Rim Trail
Grand Canyon: Rim Trail
April 26, 2014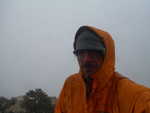 It rained overnight and I awoke to a cold morning with a few snow flakes even falling. Still, I boarded the bus towards Hermit's Rest. From there I planned to hike most of the Rim Trail before my evening shuttle to Flagstaff, so hopefully the chilly, windy weather would improve. Some nice views of the canyon were had as I rode out there, but by the time I reached Hermit's Rest the canyon was completely clouded in, along with snow hitting me horizontally.
I started my walk eastward anyway through the blowing mess, where the only thing to see was the inside of a cloud. This cold stroll was not very fun, and my pants were also starting to become damp. With this reality I aborted my rim hike and at the next stop caught the bus to the indoor, heated visitor center. This spot had some nice exhibits, but was mostly geared to providing information on what to do around the park, so its ability to keep me occupied was limited.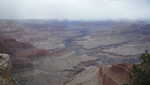 While waiting out the weather I did some other chores around Grand Canyon Village, such as buying stamps and breaking camp (my tent had nearly collapsed under the little bit of snow), before I headed back to the rim in the afternoon with improved weather. From the visitor center I walked east along the Rim Trail to South Kaibab Trailhead, enjoying the massive, long hole in the ground the whole way. There I caught buses back towards Hermit's Rest, where the canyon was now at least again visible. I would not have time anymore to hike the whole Rim Trail, so I debussed at The Abyss (whose rock walls were not quite as sheer as advertised) and headed east, all the while absorbing my last views of the canyon. By the time I reached Powell Point I had run out of time, and took the bus back to The Village, where I caught my shuttle of Flagstaff, where I caught my train Los Angeles.