Home » Adventures » Grand Canyon » Bright Angel Trail
Grand Canyon: Tonto and Bright Angel Trails
April 25, 2014 — Boulder Creek to Bright Angel Trailhead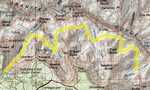 Route I hiked this day
My last day in the canyon started with more endless traversing around the many side canyons as the Tonto Trail never varied from its contour line. I enjoyed the remainder of my time in the canyon, admiring the large mesas overhead and the roaring Colorado far below. Lonetree Canyon had a trickle of water in it, which provided a nice additional drink.
So far I mostly had the canyon to myself, but upon reaching the intersection with the South Kaibab Trail I encountered more people just resting there than I had seen in the three prior days! I could have ascended to the rim here, but elected to stay on the Tonto Trail for another couple miles till the Bright Angel Trail. This route would provide more time in the canyon, access to additional water, and a gentler grade when I finally climbed out.
After zigzagging around the last of the side canyons I arrived at Indian Garden — an oasis in the canyon — and relaxed for a while with a bunch of other people that wished an elevator had been installed. After my break I started the 3,000+ foot climb over 4.5 miles to the rim. The trail was amazingly wide and well maintained, and felt like a highway. Many steps had been built and the slope was gentle as I made steady progress upward. The views back towards the canyon were also amazing as I snaked up the numerous switchbacks.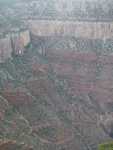 Bright Angel Trail switchbacks
After hitting the 3 Mile Rest House in seemingly short order, I continued on unabated. I was not racing, but kept a strong step anyway, enjoying the physical work and sore muscles that come from pushing oneself — something I do not often do anymore with my hiatus from running. I continued on, encountering more and more day hikers that came partway into the canyon, many of whom were greatly affected by the climb back. I passed a SAR crew performing a training exercise, but they did not need a volunteer to ride in their rescue stretcher, so I kept walking.
The rim grew closer and closer until eventually a little after two hours since leaving Indian Garden I emerged to a mass of tourists. From there I caught the bus to the general store for a much deserved dinner, before retiring to Mather Campground for the night.