Home » Adventures » Glacier » Day 4
Monday, August 22 — Time for Some Hiking
My watch alarm raised me from my slumber in the wee morning hours so I could get back to Two Medicine and catch the 8:45 hiker shuttle. Daylight barely peeked over the horizon at this early hour, and the sun was in no hurry to rise. The bright night sky in this open clearing precluded me from needing to switch on my headlamp though as I quietly and systemically broke camp in the predawn light.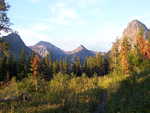 I was the lone witness to a beautiful sunrise creeping over the mountain peaks and painting the valley before me, providing just enough light to follow the trail safely. I traversed the north shore of Two Medicine Lake, having already explored the southern route on my way out. The song of bellowing moose seemed to emerge from the shoreline in the early morning mist, but it may have just been garbage trucks making their rounds in the campground. Even with the assistance of binoculars, I could not locate any moose but did manage to track some trucks.
I arrived at the shuttle stop without incident and ample time. While waiting, an elderly couple drove into the parking lot with a kayak strapped atop their truck. The boat was not some chinsy plastic dinghy but a smooth polished wooden vessel. I assisted the man in casting the craft into Two Medicine Lake and watched him paddle away. His wife said that he had built this boat by hand over the winter. He also enjoyed backpacking in the park when not on the water. Did I mention he was seventy? I sure hope if I live that long I am still that active enjoying nature (assuming that mankind has not destroyed every natural refuge by then).
Watch out for Livestock
Eventually the hiker shuttle came and ferried me speedily along a twisty road lined by deathly steep edges. I would not want to drive that road at night, but my chauffeur instinctively glided around its curves, their subtleties embedded from countless trips over it. Coincidently, a woman I met on the train rode in this van to meet her Sierra Club project, after having spent a couple of days enjoying Glacier on her own.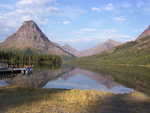 Two Medicine Lake in the Morning
As I suspected, Cut Bank's stop was right next to Highway 89 and not near the actual park entrance, which was five miles up a dirt road. The morning was still young, and I wanted to get some hiking miles in anyway (even if they were not the most picturesque) so the extra stroll did not bother me. In fact, most of the few cars that passed extended a ride, but I declined their polite offer. This road actually lay outside Glacier National Park so cattle grazed on the adjacent land. Although accustomed to cars, the cows did not appreciate a human walking along their road. Their evil eyes and long stares suspiciously followed me as I trespassed through their territory. The farm animals made me more nervous than any creature encountered thus far. How foolish I would feel to come all the way to Glacier and be hurt by a cow, of which there are plenty in Iowa. Thankfully, no bovine induced injuries befell me, and I made it to the safety of bear country.
I checked with Cut Bank's ranger on trail conditions, and he begrudgingly informed me that my needed passages were open. This entrance is fairly remote and little used, and the ranger seemed annoyed that someone interrupted his sheltered haven by asking questions.
My journey along the unpaved road through cattle country only brought me to the trailhead; another six miles or so still lay between Atlantic Creek Campground and me. At the trail's start I met a woman that was heading in the same direction. She was a seasonal worker at the park and on this her day off, was hiking into the backcountry to spend a night with a friend working trail crew. She had to pass Atlantic Creek, and I apparently did not frighten her too much as she agreed to hike with me that far.
We passed through stunning scenery progressing along Cut Bank Creek. More tall trees and mountain rivers kept us company the entire distance. It was also fun getting to know a stranger while hiking through America's outdoors. We recounted previous backcountry or other wild experiences. Being in the area for several summers, she had an intimate knowledge of Glacier. She described some of the treasures I would not see, but also said Gunsight Pass, which I was scheduled to cross in four days time, was very scenic and beautiful.
Atlantic Creek
Upon arriving at Atlantic Creek Campground my hiking companion left me to meet her friend. She was staying only a single night so we would pass on her wait out the next day. Counting all the hiking accomplished this day (around eleven miles), I nearly doubled my trip's total distance. An additional eleven miles lay ahead for the next segment too, so I was finally getting into some serious hiking. It would also be my first significant climb, a 2000 ft bump over Triple Divide Pass.
An adult couple from Seattle staying the night at Atlantic Creek arrived. I socialized with them over lunch and dinner. Our permit reservations overlapped for the next several days so I would be spending quite a bit of time alongside them. This campground was my first which allowed campfires in the provided pit, so we built and enjoyed a small one that evening.
The sky looked threatening most of the afternoon, but luckily all the precipitation remained in the clouds or avoided me. Although I had bought expensive rain gear, I would still prefer not to use it. With the ominous sky and my early morning start, I took refuge in my tent which shortly transformed into a nice afternoon nap. At dinner the Seattle couple told me that during my recuperation some day hikers had spotted a bear and her two cubs about a mile up the trail. These animals probably were the same ones that closed portions of the surrounding trails. The nearby bear report made me a bit nervous and paranoid around camp. Any of the normal wilderness sounds caused me cringe and take an extra look that night.
With still over half my nights in the backcountry ahead, I began missing that piece of modern technology known as a shower. Sweat and grime covered my skin, and I could smell my own BO. I would not get a cleansing rinse until I was all the way back home either. If I do not take a good Polish bath at Apgar Campground or jump in a lake, I will have an entire train car to myself on the ride back.