Home » Adventures » Glacier » Day 2
Saturday, August 20 — It Begins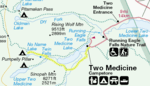 Route I Hiked This Day
I arose with ample time to take advantage of the hostel's running water and still catch the 8:15 shuttle to Two Medicine. Loitering at Glacier Park Lodge before my transport arrived, I could not help noticing that almost everyone, including children, walked around drinking Starbuckesque coffee. Something about the four dollar beverage, mass produced individuality, and the yuppieness factor has caused me loathe the hippie coffee scene. If you actually need to wake up and are not trying to portray some image ("I paid too much for coffee"), just take a cold shower and/or run a couple (or a lot more) miles. Encountering my arch nemesis in full force on the edge of my long anticipated adventure was a major setback. The breed of people occupying the lodge would probably be quite different from those battling the backcountry though, so I still had hope of finding solace. I was also much closer to coffee's Mecca than normal, so maybe it just came with the territory.
The shuttle arrived and whisked me away from caffeine-laced drinks towards my destiny. The pair of English girls from the train rode too, as they planned to day hike around Two Medicine. A short trip later the shuttle deposited us there, and I approached the ranger station to retrieve my backcountry permit. The one the ranger handed me was, however, slightly different than the one mailed to me. It generally followed the same route, but this new itinerary had me piddling around the Two Medicine area for a couple days and even backtracking before venturing into the heart of Glacier (although not to find Kurtz). This turn of events was frustrating since I much prefer to always be moving forward and covering new ground towards some arbitrary destination. My first several days also had short hikes instead of the epic journeys I prefer. Although this altered schedule did preclude a 20+ mile day the original contained, which may have been a bit too epic.
Bears presented an even bigger problem for this new permit. A mama grizzly and a pair of her cubs had decided to hang around Morning Star Lake. In order to protect the bears and park visitors, the trail had been closed from around Pitamakan Pass to the Cut Bank Valley Trail. Naturally, my reservation called for me to cross that particular section, with no viable detour around it (short of significantly altering everything and venturing through the Nayak, for which I was not prepared). Some quick thinking though showed that not all was lost. The friendly hiker shuttle which took me this far could also deliver me to Cut Bank, a little used entrance on the east side of the park. From this hamlet I could reach my scheduled hiatus at Atlantic Creek and continue onward while avoiding those above average bears. I would have to return to Two Medicine in a couple of days for its shuttle stop but did not have any alternative. Relieved with my next six nights' accommodations planned, I departed the ranger station and headed into the wilderness.
My official itinerary had me sequentially staying at the following campgrounds: No Name Lake, Upper Two Medicine, Atlantic Creek, Red Eagle Lake Foot, Reynolds Creek, and Gunsight Lake. I would also spend a night at Apgar Campground at the end, but those sites were not reserved.
Over the River and Through the Woods…
Saying goodbye to the parking lot, I followed the trail along the south shore of Two Medicine Lake towards No Name Lake. It felt liberating to be hiking again, and the weight of a fully loaded pack did not dampen my fresh legs and excited spirit. A couple of small streams crossing the trail instead proved troublesome. The park service had conveniently erected small footbridges, but being a smart person I rather bravely forded these trickles. They barely reached my ankles, but my boots were not quite as water resistant as I remembered so a bit of the stream congregated inside my shoes. They were not soaked and dried as the day progressed, but I still felt stupid afterwards. Before this trip ended though, nature would demonstrate just how porous my boots were.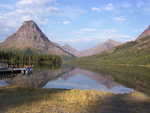 Two Medicine Lake
The trail proceeded along Two Medicine Lake through fairly level forest. Thick foliage, however, prevented many views of the nearby water. Not until its eastern edge, where the trail began to climb, did the lake come into view. From this vantage point I also saw the foot friendly ferry furrowing forth to this far end. Fare paying passengers would share an enjoyable boat excursion and could also explore a slightly more remote section of Glacier than found at most touristy trailheads. Of course, they would miss the fun of hiking the entire length of the lake as I did.
My trail ceased shadowing Two Medicine Lake and started to rise as it turned inward towards the lakes above. Good old flat Iowa has left me defenseless against hills, so gravity weighed heavily on me as I hiked even though the paths were not extremely steep.
I should also mention at this point that in the morning while waiting at Glacier Park Lodge, I purchased an extremely tacky pair of bear bells from the gift shop. This snake oil would provide a false sense of protection from encountering bears as I trekked solo through the mountains. I even managed to hang the trinkets such that they jingled with every single step. The rhythmic chimes' constant ringing quickly became annoying and spoiled part of nature's tranquility. Of course, a surprise meeting with a bear would ruin that tranquility even more, so I would have to tolerate them for the remainder of the trip.
…To No Name Lake I Go
I arrived around one at beautiful No Name Lake Campground. This campground's namesake lake had a rich, deep blue-green color permeating through it. On two sides of this water arose steep rock walls, providing protection against Mongol invasions. On the more vulnerable side grew lavish forest giving way to the valley below and eventually Two Medicine Lake.
The camp itself was nicely engineered. As with all of Glacier's backcountry sites, a separate eating and food preparation area was designated. The area also contained a pole suspended twenty feet in the air between trees to secure unattended food. For lodging, three separate and private clearings existed to pitch tents. The amenities never ended as they included an enclosed pit toilet, which made doing your business a lot more convenient and comfortable than the dig and squat method. Glacier had the five star hotels of backcountry sites. The intention was to idiot proof them from the large volume of visitors so they would not normally adversely interact with bears and other indigenous species. The luxury may have detracted a little from the total wilderness experience but also simplified my first extended backcountry trip.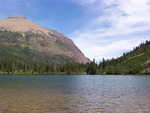 No Name Lake
After sharing lunch with some overly aggressive squirrels that unsuccessfully tried to pluck food straight from my hand, I explored the base of the towering rock walls. I did not make any exciting discoveries along the shoreline but did have fun climbing on the rock slides. After returning, I relaxed on a small pebbly beach by reading and absorbing nature. Occasionally though, a distant roar that sounded almost like a busy interstate crept into my ears. The drone of trucks could not be permeating deep into Glacier National Park since no thoroughfares passed nearby to produce such noises. After closer scrutiny I sheepishly realized that wind and rivers snaking through the mountains were the source of the rumblings, not motorized vehicles. Modern transportation still followed me though, as several planes soared high above throughout my expedition.
I went to bed that night somewhat unfulfilled. Arriving at camp early in the day resulted in too much time to kill. Although I enjoyed exploring the area, an entire afternoon and evening was a long time at the same campsite. I only had a very easy three or four mile downhill hike the next day so it looked like more of the same. Perhaps I would have better luck finding people and things to do at my next site.
The mercury dipped low this first night, and I wore almost all my clothes to counteract the chill. The frigid air bit my feet the worst, with only one pair of wool socks trapping their heat. I endured the pain though, rather than crawl from my tent into the freezing night and retrieve another pair from my pack suspended on the food pole. I reverted to the fetal position, shivered in my sleeping bag, and promised myself a double layer of socks the next night. Also during the night several loud crashes awakened me, which the next morning other campers told me were probably rock slides on the nearby cliffs. The falling debris was too distant to pose any danger though.