Home » Adventures » Glacier Highline Trail » Waterton Lake
Hiking Along Waterton Lake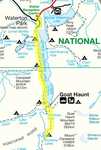 Route I hiked this day
After Greyhound dropped me off at Pincher Creek at 2 a.m., I had yet more time to kill waiting for daylight while trying not to arise anyone's suspicion or attract adverse attention. Absolutely no one was out though, so I went unnoticed. When the sun finally crept over the horizon, I stuck out my thumb to the newly emerged traffic and quickly caught a ride to the entrance of Waterton Park. On my way there I caught my first glimpses of the gorgeous mountain ranges rising dramatically from the prairie.
I walked the eight kilometer access road to the village since I hate hitching and it was still early. In the town of Waterton Lakes I obtained my backcountry permit, although not quite with the route I wanted. My hike would be continuous to East Glacier but because some campsites were full, I would skip part of the Highline Trail and detour over Stoney Indian Pass instead.
Before leaving I ate my last big meal and then hiked into the wilderness along Waterton Lake. Unfortunately the valley was full of smoke from far away fires on the west coast, so views of the mountains along the lake were few. The leaves were at least beautiful, changing colors to yellow and reds.
A few NOBO CDT hikers passed by, who were on the last day of their long excursion.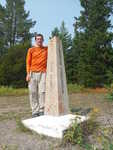 After crossing the international border by foot in yet another remote area I passed through the customs station at Goat Haunt, which must be the most expensive border crossing per person in the United States.
I visited nearby Rainbow Falls, which cascaded nicely, although the viewing angle from on top was not the best. The haze over the lake cleared some by the time I returned, revealing a few glimpses of Waterton Lake's glory.
I continued onto Kootenai Lake to camp. My lack of sleep from the prior two nights left me a walking zombie, and arriving at camp early and heading straight to bed was a welcome relief.