Home » Adventures » BWCAW » Day 9
Saturday, June 24 — Big Water and Motorboats
I lay peacefully in my sleeping bag, in no particular hurry for my last day in the Boundary Waters to start. When I finally emerged from my tent, a thick blanket of fog inundated the area. I could barely see the opposite shore of the lake next to my campsite. With such low visibility, it would be nearly impossible to navigate using landmarks as I had been doing the entire trip. I made enough mistakes using that type of navigation anyway. In these conditions I would instead be forced to rely on instruments and careful tracking on the map. I lacked the skills required to maneuver using those tools so with some extra time on the itinerary anyway, I allowed the morning to burn off the fog.
The rising sun did its job well and when I eventually started across the water visibility had improved greatly. Any lingering low clouds had completely disappeared by the time I entered the main section of Saganaga Lake. Another beautiful sunny, blue-sky day baked me.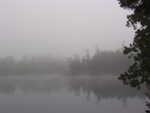 A foggy morning
My trip across Saganaga Lake was straightforward — I would follow the shoreline for several miles until I reached Rocky Point. That would be my indication to turn and head across open water to my eventual exit. It would be one long paddle with no portages interrupting the water.
A week of sitting on a poorly constructed seat and little chance to stand hit me hard during this crossing. My life preserver turned cushion could relieve the soreness only so much. On top of a tender tush, the long, tedious expanses were mentally dulling. I traveled in a straight line and could see my path ahead for miles. The visible distance was deceiving, and it seemed to take forever to crawl along the shoreline.
After many miles I finished hugging the water's edge and turned around Rocky Point. I once again misinterpreted the horizon and headed for the north end of Munker Island. About halfway across the open water I realized my mistake and changed direction so I would pass correctly by the south end instead.
Although the prospect of encountering a headwind had terrified me for almost the entire trip, the air was completely still as I glided across a very quiet lake. Motorboats and their peace-disturbing engines, which were allowed in this section of the Boundary Waters, produced the only waves.
Home Stretch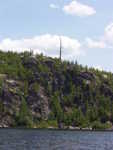 I finished the long paddle across Saganaga Lake and turned south down the Sea Gull River. At its conclusion was entry point 55 which would be the end of my Boundary Waters trip and where I could reenter civilization. These last miles on the river stretched on ceaselessly though as I anticipated my exit.
A small section at the end resided outside the protected Boundary Waters Wilderness. As soon as I crossed into this private land, the narrow river was offensively assaulted by cabins and resorts. They were densely packed into the limited land on the water's edge, lacking any room to squeeze in even one more. The real estate was so valuable that even islands, accessibly only by boat, were developed.
With this last view of what most of Minnesota's lakes and wilderness actually looked like, I arrived at the boat launch where I could finally stop paddling. After returning my boat, I called my parents to inform them I was not dead, which relieved some of their anxiety. I tried to clean a week's worth of grime from my body without the aid of a shower, but that effort was only marginally successful. After situating everything back inside my car, I drove down the Gunflint Trail and along the north shore of Lake Superior with perfect timing to catch a broadcast of A Prairie Home Companion.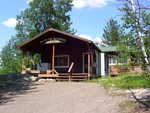 Back at my outfitter, Way of the Wilderness
I stopped in Two Harbors for a delectable, cooked pizza. I thoroughly enjoyed one of the great benefits of progress after dining on limited, dry food for the past week. After dinner, I strolled down near Lake Superior and perused a historical train display and large iron ore shipping docks. After savoring the food and scenery, I continued south toward Minneapolis. I stopped at a rest area about thirty miles north of the city to catch some sleep. Having become accustomed to sleeping in my car already on this trip, I made myself comfortable, hoping not to be haggled by The Man or rambunctious roustabouts.