Home » Adventures » BWCAW » Day 8
Friday, June 23 — More Paddling
I did not bother to deceive myself into thinking I would start early, and succumbed to the temptation of leisurely breaking camp and remaining on land during the early morning sunshine.
When I finally commenced traveling, a brisk tailwind carried me across South Arm of the Knife Lake. I steered directly into the rising sun though, so a pair of sunglasses to reduce the glare from the water's surface would have been very helpful. In their absence I resorted to a lot of squinting.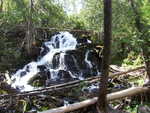 Eddy Falls
My long trek across South Arm of the Knife Lake was extended by a hiatus at Eddy Falls. This waterfall was adjacent to the lake along a portage trail. The falls cascaded through many different rocks and trees that had been swept downstream. I used the resulting natural jungle gym as my personal playground, climbing on the rocks and logs in a manner that was slightly too dangerous for a solo traveler.
After finishing my rambunctious scrambling, I had to exert extra effort to get back on course. The wind, which had so graciously propelled my canoe earlier, was now directed perpendicular to it. The orthogonal waves made for a bumpy ride. I constantly chopped through them as they slammed against my boat. They were too small to be dangerous though, just providing some fun undulating water to cross.
I encountered a traffic jam at the portage between South Arm of the Knife Lake and Hanson Lake. A large group from Outward Bound Wilderness, which was trying to assist troubled youth through self discovery and reliance, was transporting their goods in the other direction. I talked with them as I patiently waited for the trail to clear.
It was my only scheduled portage during an otherwise full day of paddling, but the trail was still quite challenging during these later stages of my trip. It contained an abrupt climb up a rocky hill in addition to some mental trickery. About two-thirds of the way through, I encountered a small lake. I thought this spot was my final destination, but in reality many rods still separated me from the end of the trail. After expecting to be finished hauling my gear, it was vexing to continue moving forward. At least a nice waterfall adjacent to the trail provided some visual stimulation during the grueling exercise.
Ahead of Schedule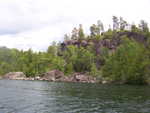 I had already planned to travel further than indicated on my itinerary (south end of Ester Lake), when I passed those campsites early in the afternoon. I wanted to shorten the next day's paddle (scheduled at fourteen miles), especially since my first day left me paranoid of wind hampering my progress across Saganaga Lake. The first unscheduled portage to Ottertrack Lake was another ordeal after a week of travel tried legs (not to mention that marathon I ran). A steep assent preceded an equally sharp but longer descent. It concluded with a windy path ending at a lake connecting the U.S. to its northern neighbor.
I straddled the line between these two countries before reaching Monument Portage. Although it was billed as "not requiring a monumental effort," a nontrivial hill still blocked the path. Along this portage, besides the occasional U.S. and Canadian border markers, someone decided it was necessary to clear cut a ten yard wide swath signifying the countries' boundaries. I am unaware if this was for aerial recognizance of illegal border crossings or some classified program involving mounted yaksmen, but that destruction seemed a little overzealous in this remote region. The threat of cheap imported Canadian drugs or terrorists canoeing through miles of barely tamed wilderness seemed remote. Never question the logic of the government though, right?
Beyond the deforested portage, a dock provided access to Swap Lake (which was a lot less swampy than many other lakes). During my prior portage, the weather deteriorated and it began to drizzle. I double-timed it to beat the storm to camp, which was less than a mile away. Just before my campsite on the far southwest corner of Saganaga Lake I had to cross one last portage. It was barely long enough to require a carry, but was also too rugged just to drag across a fully loaded boat.
At Camp
I quickly arrived at camp after this hiccup and stowed my gear safely under my boat. I waited out the storm under a big tree with ample pine needles, which acted as a solid umbrella. It poured hard, but most of the nasty weather missed me. The storm was just another afternoon downpour, and the sun shown forth after the clouds' brief appearance.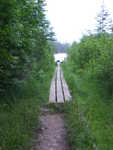 Boardwalk to Monument Portage
With the extra push, I actually completed all the portages for my trip. I no longer had to lift my boat and could just paddle. Unfortunately, this accomplishment also meant I would be perched in my boat's tiny seat for long, uninterrupted periods. The bench was uncomfortable and not designed for extended stretches of use. I requisitioned my life preserver to use as a cushion, but it only marginally relieved the saddle soreness and did not fix the case of the problem.
I tired staying up late since I would have extra time the next day and it was my last night in the wilderness, but the mosquitoes descended upon me in full force as darkness approached. I tried building a fire to keep them at bay, but wet wood and lack of fire starter doomed the effort before it even began. I retreated inside my tent and shut my eyes.
Although the trip had been great, I was about ready to rejoin society. Civilization, a shower, a shave, and a big hot meal sounded very appealing. A week was about my limit in that canoe. During that time paddling in the Boundary Waters I discovered a unique experience. Few places are left where you can propel yourself in a tiny boat snaking through a labyrinth of small lakes in the same manner as Native Americans and explorers did hundreds of years ago. Of course, I had the distinct advantage of a lightweight, synthetic canoe and hyper accurate maps. Is it a sign of progress or a sad state of current society that as leisure activities we artificially partake in quasi-rudimentary expeditions people suffered through or even died because no better way existed back then? With all the conveniences in the modern world, which I admittedly enjoy, sometimes a simpler and more primitive life is needed, if only for a time. Hardship builds character. Or maybe it does not mean anything.