Home » Adventures » BWCAW » Day 5
Tuesday, June 20 — Trying to Get my Groove Back
I wanted to start early, but slumber enticed me more, so I enjoyed recuperating in my sleeping bag until the sun poked over the horizon. I lacked any outside mandates to worry about anyway. The sun lingered in the sky late into the evening, and the lone artificial timepiece was my watch, which only assisted in gauging progress. An hour early or an hour late does not mean much in the backcountry.
The breeze once again shifted overnight, and another headwind hindered forward progress. It was not nearly as severe as during my first day on the water though, and I struggled through it. The wind was also bearable because I would be paddling relatively little, encountering many portages instead. Six greeted me even before noon, and four that day were over fifty rods. These statistics included completing one of the originally scheduled portages the prior evening.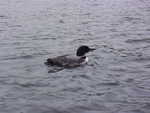 One of my firsts portage between an unnamed small pond and Panhandle Lake was difficult because around a dozen trees had fallen across the portage trail, obstructing fluid hiking. Some trunks were low enough where I could carefully step over them while still carrying my gear. For others however, I had to set everything down, crawl through the logs and then carefully slide my boat across before continuing along the path. This maneuvering was an awkward and time consuming way to cross between lakes.
Despite the difficulty arriving at Panhandle Lake, departing that body of water was even harder. Apparently, two portages connected Panhandle and Pan Lake. One was marked on the map near the "handle." The other trail, which was actually maintained and used, lay about 100 yards north. I, of course, chose the road less traveled, unintentionally this time. The route I used was very winding, climbed through small ravines and hills, and had vegetation encroaching on much of its right of way. It was challenging to follow, and I ultimately lost the trail. I resorted to bushwhacking and eventually stumbled onto an open, nicely worn route leading to Pan Lake. I wisely tracked to the start of the trail on Panhandle Lake so I could use this more maneuverable path when carrying my boat.
More Water
The day continued on, touching a large number of different lakes. In between carrying my boat, these lakes were generally small, and I could barely find a rhythm before land forced me to disembark and carry my supplies again. Wind still battled against me, which I mostly dodged by hugging the shoreline on the narrower lakes. It had a tendency to shift direction frequently, however, making previous shelter useless.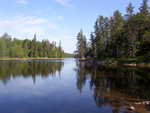 Another beautiful lake
With ever increasing practice, I became slightly more efficient at portaging. The ordeals were still not a refined operation, but I at least discovered out how to arrange my boat to disembark it quickly and deftly transition from canoer to hiker. While actually portaging I realized the best method for me was to haul my gear, which was less awkward than my boat, during an initial trip across the trail. Without a boat, I could assess the condition of the trail with relative ease. The next time across with a canoe on my back I exploited the recently gathered intelligence to minimize problems. This system meant that for each portage my feet carried me three times its actual distance, twice with a load weighing me down.
I made my way across the lily pad covered Anit Lake. These plants were annoying since I tried to avoid damaging them with my paddle. But they also created a lot of drag on the bottom of my boat, which made moving difficult. Following two more portages, I arrived at the Kawishiwi River, which was my only long stretch of paddling that day. The so-called river was no river at all, but just an elongated lake. I continued along this body of water, whose shorelines were covered with trees and rock outcroppings. I met two anglers at the portage midway across the Kawishiwi River who commented that I was brave (which I interpreted as stupid) to be conquering the Boundary Waters solo. These fishermen were the only two people I saw on the water all day, except for one or two groups at their campsites.
I camped at the south end of an island in the Kawishiwi River, after having almost completely circumnavigated the land mass to locate the site. I finished my day early, around two, so I erected camp and relaxed. I soon became restless though and went exploring. My search did not uncover any hatches, but I enjoyed scrambling through the trees.
Considering the scope of the paddling and portaging I completed, my arms were surviving relatively well. They did not unbearably ache and were not exhausted. When I was actually on the water though, the repetitive strokes did inflame my shoulders and wrists. Perhaps I could just file a carpel tunnel claim when I returned to work, blaming my problems on being stuck in front of a computer all day.