Home » Adventures » BWCAW » Day 3
Sunday, June 18 — Crossing the Boundary
I made the short trip that morning to Way of the Wilderness at the conclusion of the Gunflint Trail to retrieve my boat. The vessel responsible for transporting me through the Boundary Waters was a little thirteen foot canoe. It was not the optimal craft for a weeklong expedition but was the lightest one to carry and cheap to rent.
The outfitter had the option of using either a traditional canoe paddle or a double-bladed kayak style one. I elected for the canoe type, mainly out of idealism. My exploration would be based from a canoe, and that type of paddle seemed pristine. I would quickly learn that sacrificing functionality for irrational, romantic backcountry notions was a mistake.
I procured my boat and backcountry permit with minimal problems and cast into Seagull Lake through entry point 54. Very shortly after getting my boat wet, I realized that an inexperienced paddler commanding a short boat made a disastrous combination. Fluid dynamics dictates that diminutive boats do not track well (or at least worse than longer ones), and mine was no exception. I had to alternate on which side I paddled at most every two strokes or the boat would severely veer off course. As a result I constantly switched between port and starboard, dripping water on my legs each time. All the extra time the paddle spent in the air instead of providing propulsion noticeably slowed me down. If I had chosen the kayak paddle, none of these problems would have been an issue.
On top of my steering difficulties, I immediately encountered a strong headwind blowing across Seagull Lake. The green paddler driving a poorly handling boat into a strong wind was not a pretty sight. I tried sticking to a route across the lake, but the wind unilaterally decided my course. Even the occasional times I started to bring the boat under control, I would switch sides paddling, and in that momentary gap the wind undid any previously accomplished course correcting work.
The wind magnified my poor paddling skills as I zigzagged across the lake, desperately trying to make progress. It was of little use though as I spun in circles. My multi day trip was only a couple hours old, and I was already seriously questioning my ability to complete it. In an attempt to mitigate the wind's fury, I hugged the shorelines and tried to use islands as a shield, but that only assisted marginally. Although the coast provided some cover I had to be extra vigilant not to slam against its rocky shore, which would have torn my boat apart. My vacation, which was supposed to be enjoyable, was become excruciatingly frustrating as it took all my energy to barely inch across the lake.
Baptized by Wind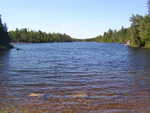 Looking into the Boundary Waters from entry point 54
With the wind's constant buffeting and my own infamous navigation skills, I was nervous about becoming lost. The elements whipping me about made it challenging to keep track of my position. I could not check my map as often as desired since my hands were preoccupied manipulating the paddle. I cheated once and used my GPS to verify my position, since a miscalculation in this weather would be exceedingly dangerous.
The already tortuous wind grew even worse across the open expanses of Seagull Lake. It formed 1′-2′ high waves that crested over the canoe's top. Only spray actually made it over the gunwales though, so at least for the moment I was not taking on water and becoming the next Titanic. Nevertheless, the wind's wrath continued to obstruct my path. At one point I was paddling with all my might on one side, but my boat was still moving in the opposite direction as desired. I had little control over my destiny. What a day to learn how to handle a canoe.
To add insult to injury, while I was struggling to budge even an inch, a kayaker effortlessly overtook me. The advantages of his elongated vessel, double-bladed paddle, and skills handling a boat neutralized the weather that devastated me. A kayak is generally more appropriate for solo travel anyway. They, however, do not have as much storage and are harder to portage than canoes, so I could not have used one for my flavor of expedition. Still, I cursed my paddle selection again as I watched him disappear in the distance.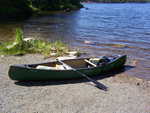 We're gonna have a little camp out in the dingy!
The afternoon brought marginal relief as in rolled clouds and the wind relented slightly. It still lingered enough though to slow my progress drastically. With all that I encountered, it would be impossible to reach my scheduled destination on Ogishkemunci Lake. In a sign of respect to the wind and my own inability to control the boat, I relented from my plans and would instead try to camp at the much closer Jasper Lake. Perhaps if the weather cooperated later in the week I could recover the lost distance. If its stubbornness persisted though, my itinerary would have to undergo major changes.
Time to Carry a Boat
After significantly too long of a time, I completed the trek across Seagull Lake and was ready to attempt my first portage. It took a little searching, but I found the trail to Alpine Lake. I pulled my boat onshore and quickly encountered Minnesota's unofficial state insect — the mosquito. They did not venture far over the water, but the bugs swarmed as soon as I approached the shore. My generic brand DEET was sufficient to keep the assault at bay, but I did not apply any until the mosquitoes already attacked and inflicted many wounds.
The portage itself was 105 rods (about ¼ mile), and I made it across with only marginal difficulties. I brought too much gear to carry all at once, and canoe carts were banned in The Wilderness. For my solo expedition, a two-trip system worked best. On my first time through, I mostly painlessly carried my gear and supplies while I left my boat at the trailhead. After depositing those items at the next lake, I trekked back along the same path empty handed to retrieve my boat. Unfortunately, when I was ready to transport my boat, I found it more than a little awkward and uncomfortable to carry. It lacked a yolk, so to support it I had to distribute its weight either on my head (ouch) or my paddle weary arms. Neither was very pleasurable as I manhandled my boat along the trail, taking occasional rest breaks. Although far from optimal, my system did eventually move my boat across the portage.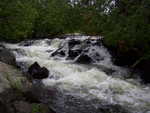 Rapids along the portage to Jasper Lake
I quickly pushed across the south end of Alpine Lake and carried my boat to Jasper Lake. That portage contained some tricky rocks and roots that caught my attention, but I avoided twisting an ankle. My campsite was slightly past this portage, tucked snugly on the east end of Jasper Lake. I settled into the area and performed the nightly chores. As evening encroached, the cloudy sky dropped rain, and I sought refuge in my tent for the remainder of the night.
The campsites in the Boundary Waters were not entirely primitive, as each one came equipped with pit toilets. They were not enclosed, however, so it was awkward constantly trying to keep the bugs away from where you really do not want them to bite.
Staying on Dry Ground
Lying in my sleeping bag, I had visions from that day of futility paddling against the wind. My arms felt like they were still battling for progress even though I was trying to fall asleep. Despite the day's exhausting work, I could not relax. Concerns of facing a week of this wind bogged down my mind. Horrible flashbacks to my miseries in the Apostle Islands popped into my mind. At least I knew the location of my car keys.
My guidebook specified a canoer would cover approximately eleven miles to arrive at the middle of Ogishkemunci Lake under normal conditions. Despite being at least five miles from that spot though, my GPS indicated I still traveled over ten miles to my current position. My actual distance traveled was the same as intended, but I was still significantly behind my timetable from being spun in circles and pushed around by the weather all day.
Although it did not cross my mind at the time, schedule slip in the Boundary Waters (or pretty much any backcountry), is an oxymoron. True, you may have outside obligations and people that would worry if you did not return punctually, but one of the wilderness's great benefits is the sun being the sole clock. No deadlines or commitments exist to cause undue stress. Do not allow deviating from a prescribed plan to detract from that freedom. Take the path and course which nature allows, enjoying the time you have. Of course, although it sounds poetic and I agree with these statements on an academic level, I never actually heed this advice while trekking.