Home » Adventures » BWCAW » Day 2
Saturday, June 17 — Grandma's Marathon
I awoke at 4:30 to start my pre-marathon routine, sticking with a breakfast consisting of a banana and bagel three hours before the gun. With my nutrition deposited inside my stomach, I rode the bus to the starting line in Two Harbors. A Scooby-Doo outfit was secretly tucked inside my warm up bag, itching to make an appearance.
The Race
For a complete recap of my unique running of Grandma's Marathon 2006, please read my full race report.
Afterwards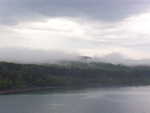 The storm-drenched shoreline of Lake Superior
With my shenanigans surrounding Grandma's Marathon complete, I hopped into my car to start the real purpose of this road trip — canoeing through the Boundary Waters. I headed north along Highway 61 to Grand Marais, from which the Gunflint Trail would lead me to my outfitter, Way of the Wilderness. Passing through Two Harbors, the almost comic absurdity of marathons clearly became evident. That morning I had ridden a bus from Duluth to Two Harbors, only to run back to Duluth, and finally later that evening to once again drive past Two Harbors. No one ever claimed marathoners were sane though.
A huge downpour inundated my car for the entire two hour drive, and my wipers were continually pushed to their limit to barely maintain visibility. I was glad not to be in the backcountry experiencing this weather and hoped the sky had expelled all its rain in that storm, leaving only perfect weather during my trip.
Since the Gunflint Trail was isolated and remote, I was unsure of its surface. If unpaved, my two wheel drive four-banger probably could not traverse the expected muddy quagmire. My fears were unfounded though, as enough tourist traps existed along the road for its entire length to be paved.
I drove almost to the end of this windy, tree-encroached road before parking at a Seagull Lake access area. Only a couple miles lay between my canoe and me. I reclined in my seat for some shuteye to be well rested for the next morning.