Home » Adventures » British Columbia » Traveling
Thursday — A Day of Travel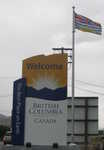 My journey to Ironman Canada began with a little too much excitement at five in the morning while catching my flight (lousy terrorists making me have a passport to visit Canada), after which I had an otherwise uneventful plane ride to Spokane, Washington. From there I hopped in a rental car and grabbed some groceries before driving to Penticton, British Columbia. Between traffic, Obama's economy destroying stimulus road construction, and one wrong turn, my trip to the host town of Ironman Canada was the longest since highways had been built. At least the diversion provided extra glimpses of great Canadian mountains.
Approaching Penticton from the south, I took the long route for a first hand preview of the infamous Ironman Canada bike course. The climbs up Richter and Yellow Lake were monsters demanding respect, but somehow seemed less intimidating than their hype. Of course, this conclusion came while cruising at 60mph 100kph in a car. How they would appear on race day atop my bike could be something else entirely.
Lodging
Rather than deal with the five night minimum stays and the Penticton area hotels' exuberant rates, my cheap butt camped at Okanagan Lake Provincial Park. The campground catered to families, constituting a nice place to pass a holiday but nothing overly exciting actually on location. For me though, the park had established sites that were less than twenty minutes from the race, but far enough away to escape Ironman's tension and excitement. At least a couple other racers shared these lodgings as well.