Home » Adventures » Black Hills » Wind Cave
August 30 — Climbing a Peak and Going Underground
Mt. Theodore Roosevelt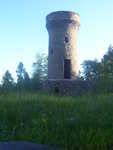 Friendship Tower atop Mt. Theodore Roosevelt
Before catching my shuttle to Wind Cave Nation Park, I filled the void by running to the top of Mt. Theodore Roosevelt and back, starting from Deadwood. Parking in the casino-laden, tow happy town was difficult, but I think my spot in front of the library was legal.
With only one small sign pointing the way, I went up Denver Ave., which climbed the entire way and never relented. Nevertheless I mustered up the hill, heart and lungs pumping. The grade was never extremely steep, and I ran the entire way to the top. Going past the parking lot and up the spur trail to the actual summit took me a little over 37 minutes.
At the peak was what appeared to be an old fire watch tower, but the interpretive marker stated this was a friendship memorial dedicated to Theodore Roosevelt. I climbed the tower but was soon on my way back down. Descending was considerably easier on the cardio vascular system but much harder on the knees. I returned to the bottom without arthritis though and thankfully my car had not been moved. Although tacky, Deadwood's casinos provided cheap sustenance to lure in customers, which I took advantage of to preload calories before heading into the woods.
Wind Cave National Park
After breakfast I drove to Bear Butte State Park. A friend from home who was visiting family in the area over Labor Day was kindly giving me a ride to start of the CT at Wind Cave National Park while I left my car at the end. My shuttle was a couple minutes late, but I was still organizing my backpack anyway. That little delay, combined with the journey taking more time than expected, meant I barely made my 1 p.m. Wild Cave tour. I arrived with only ten minutes to spare, and they almost gave my spot away to someone on standby.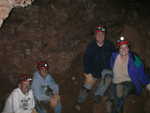 Illicit photo of the group underground
At the cave's entrance the national park provided helmets, lights, gloves, and knee-length boots. These wader-esque shoes were not the best apparatuses with which to explore a cave, but they sufficed for this occurrence. Half of the group underground were Arkansas members of NSS who were a week into a trip crawling through as many caves as they could. They were very experienced and brought their own equipment, which was better than the park services. Spelunking with these knowledgeable people was a lot of fun.
The tour started unceremoniously with a 200 foot elevator ride. From there we departed the touristy paved trails and crawled through narrow crevasses. The cave contained many interesting formations, including the very rare box work.
The technical challenges of this cave were not too difficult, although it had some noticeable climbs and descents. My worst part was crossing a narrow rock bridge that had deep pits on each side. I slowly scooted across this short span, nervous about the edges, but made it to the other side. The experienced NSS members said this cave was very beautiful but not overly challenging. After the three hours of crawling, we returned to the surface and learned that we had only covered half a mile underground.