Home » Adventures » Black Hills » Centennial Trail
August 30 — Starting the Centennial Trail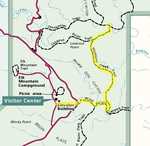 Route I hiked this day
With my below ground adventure complete, I perused the interesting visitor center, obtained my backcountry permit to camp in Wind Cave National Park, and headed out to conquer the 111 mile Centennial Trail. I did not begin with the official route, electing to start from Wind Cave Visitor Center and take the nearby Wind Cave Canyon trail. Progress seemed slow at first, hampered by the weight of my pack. I shortly thereafter reached the turn to Highland Creek Trail and discovered it was not often used. At many points I could not discern any tread and went from marker to marker, which were always visible ahead.
Much of the trail passed through open prairie and rolling hills, with extraordinary wildlife. I strolled through a prairie dog town and also saw a large heard of elk prancing hastily across the open spaces. Unfortunately I encountered my first rattle snake, slithering through a prairie dog town looking for dinner.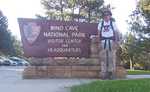 I completed the rocky, steep descent to Beaver Creek, where I made camp for the night. This usually reliable water source was dry, which left me in a difficult spot. I topped off with water at the visitor center but had been drinking copiously since then to combat lingering dehydration. With this reservoir dry though, my next water source was not until French Creek — 15 miles ahead. That would be a long way on limited water, and if this staple was dry, who knew about French Creek. With no immediate way to solve the dilemma though, I relaxed in camp and hoped for water along the trail.