Home » Adventures » Black Hills » Centennial Trail » To French Creek
August 31 — My Last Stand
Wind Cave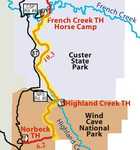 Route I hiked this day
A lazy morning had me hiking by 8, and I implemented water rationing to try to make my precious, limited resource last. I finally reached the official Centennial Trail, which I would mostly stuck to all the way to Bear Butte State Park.
An early morning traffic jam with buffalos made me bushwhack around them, since the large animals had the right of way and were blocking the path. The trail passed through more prairie dog towns, and their yelps warning of my intrusion followed me for much of the day. The morning had been cloudy and cool, which greatly helped extend my scare water supplies. Had it been sunny, I would have been much more uncomfortable, if not outright in danger.
The wildlife was great on the surface on Wind Cave National Park. At one point I was in a prairie dog town, with its inhabitants scampering about, a bison stood on a hillside, and a small heard of elk ran around — all in one harmonious scene.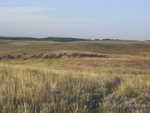 I was very blessed to find a small, barely running stream, but it was enough from which to pump water. With my water reserves full I could be much more liberal and safe in drinking water. This discovery was especially important as the morning cloud cover eventually burned off and gave way to a blue sky afternoon.
I crested a small hill and a buffalo stood near the trail too close for comfort. I was more scared then the lone, lackadaisical bison, and I backed slowly around him without incident.
Custer State Park
The border of Custer State Park had a Jurassic Park-esque velociraptor fence and gate designed to keep buffalo out. The Centennial Trail through Custer State Park was mostly fire roads that were easy to follow. Unfortunately many minor roads, which were not on my Trails Illustrated map, branched from the main route. "89" markers were strategically placed along the correct route though, guiding me in the right direction.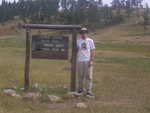 The trail had many ups an downs, but no major climbs. My legs were tired on the uphills though, and my scheduled ETA for camp of mid-afternoon made me happy.
I scampered through hills the rest of the day and around 2:30 pulled into French Creek Camp where everyone immediately and unequivocally surrendered. Quite a few people camped here with their horse trailers, using this location as a base camp for riding. The CT merely continued through the horse camp, despite the confusing gap on the Trails Illustrated map.
I made a site in the French Creek Wilderness Area but still within earshot of the neighboring horses. The established camp had running water, flush toilets, and even showers. The showers were limited to "Registered campers of Custer State Park" but did not specify French Creek campers. Since I had an official permit for the French Creek Wilderness Area (even if it was only $2), I assumed that included me. Even if I lacked soap, the warm, cleansing water felt wonderful. I had not been on the trail that long, but I lacked many opportunities to properly cleanup from my prior strenuous activities.
I relaxed the rest of the day, reading and enjoying free time. A light rain and thunder scared me into my tent, whose confined spaces at least kept me dry.