Home » Adventures » Black Hills » Centennial Trail » To Bear Butte
September 6 — Finishing the Trail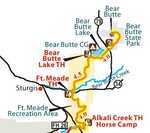 Route I hiked this day
I awoke partially refreshed from my hard prior day but was still thankful this was my shortest and last day in the backcountry. Although diminutive in length, I still started hiking early. I wanted to be up and down Bear Butte by early afternoon, because while hiking I decided that adding more activities to my already packed vacation schedule was a good idea, and would drive through Badlands National Park on my way home. With that full schedule I started on the trail a little after six, with only a slimmer of sunlight shining over the horizon.
I quickly reached the second tunnel on the CT, a culvert under I-90. The trail utilized what was intended as a drainage ditch though, so if it had any kind of water flow a traveler might have to play frogger across the interstate instead of crossing underneath.
Fort Meade Recreation Area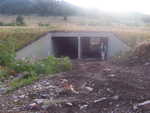 Culvert under I-90
I passed Alkali Creek Campground, my intended stopover for the prior night, but which my sore feet would not let me reach. A good view of Bear Butte was on the horizon, and I thought I might nearly be there. The trail made a hard left though and crossed the highest point in the Forest Meade Recreation Area. The switchbacks I had become accustomed to on forest service land had no place here, and the trail directly assaulted the hillside. For all the work to make the quick climb, the trail merely calmly descended along the spine of the hill. A masochist designed that stretch of the CT, as it could have stayed level and reached reach the same spot.
The CT wound throughout Fort Meade Recreation Area, finding every peak and valley possible, making the homestretch take longer and be more difficult than necessary. Finally I crossed Highway 34, and entered the northern section of the recreation area. The trail finally straightened out and headed more or less directly toward Bear Butte.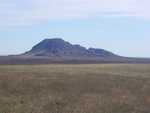 Bear Butte
There was nothing much nearby to look at through this prairie land, and I could only watch the major feature of the horizon grow bigger ever so slowly. Time passes to slowly when I could see so far ahead for so long.
As seemed appropriate for this bovine-laden hike, I contended with my largest and loudest heard of cattle as I approached Bear Butte Lake. I passed through without being mauled, but all the cows starred suspiciously at a backpacker.
Bear Butte State Park
I reached the state park and thankfully my car was still there after being parked all week. At it I lightened my load, exchanging my backpack for a much lighter Camelbak and my uncomfortable boots for running shoes. A storm approached from the Black Hills, but I would not let a little weather deter me from officially completing the trail.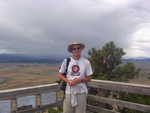 Myself atop Bear Butte, at the end of the Centennial Trail
I was more agile with my lighter load and could quickly scale the trail that gained 500 feet per mile. It was steep, rocky, and had big cliffs, but hiking it was fun and provided good views of the surrounding country side. I pushed the pace up the incline though, not wanting to get caught by a thunderstorm.
I reached the finish line at the top and my CT hike was over. I saw huge sheets of rain over Sturgis though, so I stuck around the peak barely long enough for a picture and a 360° view. Although done with the CT, I still had to descend back to my car. The plunge was not much quicker, as I had to take careful steps on the difficult terrain. Although the storm never hit Bear Butte, I was in a time crunch anyway and needed to hurry to reach the Badlands.