Home » Adventures » Beartooth Wilderness » To Montana
Day 2 — The Ground Goes Up
Theodore Roosevelt National Park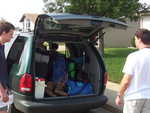 Packing our belongings back into the van
We got up the next morning, and the Bauers gave us a delicious and very large breakfast. I was sure that our meager meals on the trail would more than make up for this great feast. After eating, we loaded our stuff back into the vehicles and started heading west from Dickinson, N.D. We only drove for about forty-five minutes though, before we stopped at Theodore Roosevelt National Park visitor's center. TRNP was home to the "the badlands of North Dakota." In non-marketing terms this means a big whole in the ground that looked cool. Despite my sarcasm, the view from the visitor center was actually pretty impressive. The naturally carved formations were colorful and covered vast expanses. There was also a decent amount of wildlife in the park, but we could not really spot any from our location. There was also about a thirty mile loop that you could drive to see most of the park, but since we wanted to see mountains in Montana we skipped that part and continued our trek westward.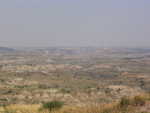 A view of TRNP
After leaving the park we still had a long drive ahead of us, as we needed to reach the middle of Montana that day. The miles ticked away pretty quickly since we still had a 75 m.p.h. speed limit. Also, the vast amount of space in Montana was pretty amazing, even to a person from a state full of corn fields. Almost all of the exits had big "No Services" signs on them. In fact, it seemed like many of the exits along I-94 were basically people's driveways. They only had access to one or two ranches from them. It must be pretty nice to get your own exit off the interstate. Also, with the vast distances between places, Montanaies (or whatever they are called) must try to entertain themselves while they drive with interesting road names. Some of the memorable roads off the interstate were "Home on the Range" and "Bad Route Road".
Billings
We arrived in Billings early in the evening in order to purchase some last minute supplies from a local sporting store and also to get access to Mount Olive Lutheran Church, which we would stay at after we got off the trail. We talked to a couple of people at the church and made arrangements so that we could get into the church after we finished backpacking. Brian and Mitchell also bought fishing licenses so that they could try and catch some fish while we were camping. Billings itself, was an interesting town..if by interesting I mean someplace I probably would not want to live. Driving through we spotted about three oil refineries, which did not smell very nice (although I am a little used to it) and also covered the ground in soot. And although there were cool mountains and such within a relatively short distance of it, Billings did not look like all that of an exciting town to be in.
Montana also had legalized video poker, to try to boost its tax base. This arrangement made for some interesting gambling establishments. Many restaurants and other shops stuck a couple of video poker machines in a side room and called themselves casinos. In fact, the small town in which we were staying had three "casinos" in it. Of course, casino really meant a dark, smoke filled room, lit only by the flickering glow of video poker machines. Luckily though, I did not see any churches try to augment their offerings with video poker (I guess they just stick with Bingo).
Bridger
After all of our business was finished in Billings we traversed the short distance over to Bridger, MT where we would spend the night. Heading over to Bridger, however, was a little interesting for me. I guess it was my suburban upbringing, but 70 m.p.h. speed limits on two lane roads were a little unsettling. 75 m.p.h. on divided interstate was fine, but on small roads it was a little disconcerting…cars zipping by at a relative 140 m.p.h. We got to Bridger fine though.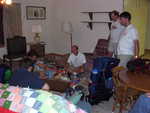 Trying to pack all our gear into tiny spaces
Bridger was a very small town, where many retired miners live and entertain themselves in coffee shops by calling talk radio shows with imaginary stories or watching the cops pull people over in speed traps. We were actually pretty lucky though with our shelter in this town. Since it was so small there were not any hotels, but there was the next best thing…an LCMS church (St. Paul). The church actually had a vacancy, so they had a vicar, to help. Brian knew the vicar really well from seminary so we were able to crash at the parsonage with him. Even though we brought seven people, there was plenty of room, since this parsonage had five bedrooms and the vicar was single. He seemed really happy to see us and have visitors. We ate dinner with him at a local restaurant, and then went back to divide our community gear and do some final packing so we could hit the trail the next day. After things were divided, it ended up that we would not be using my tent (someone else had a bigger one that was about the same weight), but I wasn't that upset since I had other opportunities to use it. I slept that night on a fairly comfortable carpeted floor in one of the parsonage's many extra bedrooms.