Home » Adventures » Beartooth Wilderness » Back to Minnesota
Day 8 — The End
Once again, the Bauers were very generous hosts and fed us another large breakfast. We had to leave the Bauers though, as they had to head to church and us to Minneapolis. We actually were heading to Jamestown, N.D. first, so that we could meet Mitchell parents and hand him over and switch cars. Mitchell had to leave us because his high school started the next day. Also, the mini van that we had been driving was actually borrowed from Garrett's parents, so they wanted it back. Despite having some long distance for both of the groups to travel to meet each other, we were actually able to find each other without any real problems and got everything transferred between vehicles.
After losing another person from our party we continued on the final stretch into Minneapolis. We did hit a little traffic of people returning to the city from the weekend, but nothing horrible. This entire time (about 2,000 miles) I did not have to drive at all though. For some reason no one wanted to switch drivers which was fine for me (riding was easy enough), but I felt a little guilty having the other people drive the entire way. They seemed fine with driving though and never complained. We got back to ULC at around 7:00 and unpacked our stuff. Some of the people were going out for pizza with other ULCers that did not go on the trip, but I did not go with them because I had other things to get ready for the next day (and also only had fourteen cents in my wallet). I probably should have gone with the group for one last bit of fun before I left Minneapolis, but it is too late now to go back and change things.
Final Thoughts
I must say that this backpacking trip was one of the highlights of the summer. The weather was great, mountains beautiful, and people easy to get along with. This trip was in the minority for ULC, as there are no horror stories to recount for future generations. I guess that is a good thing though, because although horror stories make good telling and laughs afterwards, they are really annoying at the time. I am very glad I went on this trip though and who knows, if I end up somewhere between Minneapolis and Billings after graduation, maybe I will be able to sneak along on another trip in the future.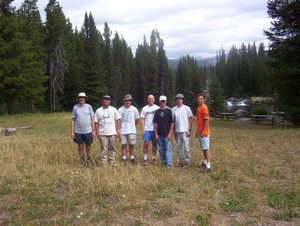 The entire crew