Home » Adventures » Backpacking Europe » Ireland
One Summer in Europe: Ireland
The land of old castles and ruins everywhere!
Dublin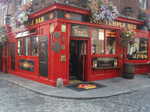 During my time in Dublin I of course went to the Temple Bar area, a collection of bars that cater to tourists wanting a drink in an "authentic" Irish pub. The places played on many clichés though, and I could only guess how much was traditional, and what had been manufactured to conform to tourist expectations. I had dinner and a drink in one though, and enjoyed listing to live music, some of which was Irish.
Trinity College had the look and feel of what I expected from an old English college (even if it was in Ireland), although it was a working university and only offered a few old books for outsiders to look at. Christ Church and St. Patrick's Cathedral were both impressive, the latter being that traditional site where St. Patrick baptized the first Irishman.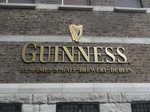 The obligatory Guinness Brewery tour understandably had a fair bit of propaganda explaining how the great Guinness beer brewing process led to the best tasting beer. It also did some cheerleading on the company's greatness — how it treats its workers and their loyalty to each other. The creepiest part though was in a room where screens played recordings of various historical and present day people telling their stories relating to the Guinness factory. Between the dark room and the floating heads on the TVs though, it felt exactly like the first room in the Haunted Mansion at Disney World, where the ghosts talk to visitors and the ceiling grows. I was not too frightened though, and made it to the Gravity Bar atop the factory for my "complimentary" pint of Guinness. The circular glass room had great views of the city, although there I also remembered how much I disliked the taste of this beer and did not bother finishing it.
Killarney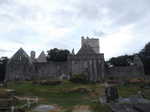 While in town I took walked all over Killarney National Park. A stroll through the forest first brought me to Ross Castle, with an impressive tower. Afterwards I continued through the woods and along the lake. I passed Muckross House — an old estate with fancy rooms inside — but that did not interest me. I went on to Torc Waterfall, which was decent but not spectacular. I finished my loop around the lake at Meeting of the Waters. Two of the lakes meet here, but the spot was a big disappointment as it was merely two small rivers gently flowing into each other. On my way back to town I visited the ruins of Muckross Abbey. They had a really neat feel, and these large stone buildings were mostly as they had been 500 years ago — minus a roof. Monks had lived in seclusion and worshiped in these very rooms.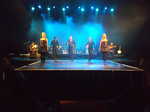 I also attended a performance by Celtic Steps, a traditional Irish music and dance company. They performed in a relatively cozy theater, the tickets were reasonably priced, and I had a great seat. The show was awesome as well. They played lively Irish tunes, sang several songs, and performed impressive, quick-footed tap dancing. I could not fathom how they moved their feet so quickly to create such sounds. The energy, synchronization, and professional production made the evening great.
I took a Ring of Kerry tour, despite some iffy weather that unfortunately never really cleared throughout the day. A few nice views of the coastline could be seen along the route, but low clouds obstructed many areas. The driver's commentary was very entertaining though, and listing to his Irish accent never got old. The tour did not cost much, but I paid for it in other ways as the bus often stopped at commercial traps where they wanted you to spend more money, rather than scenic spots. It was not the worst way to see the country though, especially since I did not have a car.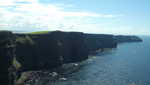 I had better weather on my Cliffs of Moher Tour. The bus took off through the Irish countryside, pointing out sites along the way. The number of old castles, churches, and stone buildings (famine houses) littering the landscape was amazing. They were everywhere, and I never got tired of looking at them. We stopped at a Celtic burial site older than the pyramids, and various other ruins and lookouts along the way. Stone walls lined the countryside, built from having to clear the fields of rocks for farming. The roads in rural Ireland were incredibly narrow, even ignoring the fact that large buses used this tourist route constantly. The lanes were very tiny, so when we overtook another vehicle the bus often scraped against the roadside vegetation and left no room to spare.
When we finally got to the Cliffs of Moher, I saw the impressive cliffs falling 600 feet straight to the sea. The place was swamped with other people, but I still enjoyed my walk along the cliff tops. The area inside the visitor center property had large stone walls to keep visitors well back from the edge, but the adjacent farmer's land was a little more carefree. The views of the cliffs and seas were great on this clear, windless day, and I had a great time. From the cliffs the bus took us past more ruins and landscapes on our way back to Killarney.
Northern Ireland
By including "Northern Ireland" on the "Ireland" page I am not making a political statement, but organizationally it fits here best for this website.
I had been winging most of my trip and have never entirely grasped the nuances of the whole [Northern] Ireland, Britain, England, Scotland, Wales, United Kingdom relationship anyway, so I unexpectedly found the currency switched from Euros to Pounds after I got off the train in Belfast. The road signs also now displayed miles.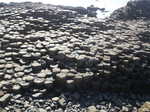 The ATM gave me the right type of currency though and my first stop in Northern Ireland was at Giants Causeway. I rode there on the top of a double-decker bus, which barely cleared some of the underpasses. We passed Dunluce Castle, but I did not have a chance to visit due to the bus schedules. The storybook looking castle was perched on a cliff edge. It was abandoned several hundred years ago after part of that cliff collapsed during a storm, bringing a section of the castle down with it. At Giant's Causeway I walked the trail along the impressive cliffs. They were not quiet sheer rock walls, but the craggy faces looked remarkable against the sea. The most interesting part though was the basalt columns. They were hexagonal rods, about a foot across, packed together like a honeycomb, although the columns' heights varied. It looked like a life-sized Q*bert board. They were interesting to study and fun to hop around on, although paramedics attended to a person that slipped and had hit her face pretty hard on the rocks.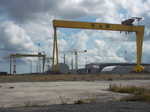 I also visited Belfast, which did not offer a lot for tourists besides some tangential Titanic history that had been played up. I did take a tour along Falls Road though, which was at the forefront during The Troubles in Northern Ireland. I knew almost nothing of that history and hoped to be enlightened. It was told entirely from an IRA perspective though, led by a former IRA volunteer who actually spent many years in prison for his actions during The Troubles. Unfortunately he did not give much background on the conflict, and jumped into the thick of things, referencing names and events I did not recognize. He had lived through it though, and that was his world. Our guide also had a very thick accent, making him hard to understand sometimes. As far as I could gather though, the conflict was mostly between native Irish and those of British heritage. There was deep seated distrust between them and a history of discrimination, combined against nationalism and religious differences that eventually boiled over, each side not backing down and seeking revenge for past injustices.
While we walked the streets, he could recount many specific days, events, and details from that spot during the fighting. Bombings, shootings, and battles took place on these now peaceful streets. We walked through Republican territory, without a single Union Jack in site and many monuments to those killed during The Troubles. The residence saw these people as heroes and martyrs, although it would not surprise me if the British labeled some of them terrorists. No major violence has transpired in a decade, but "Peace Walls" still exist between the different neighborhoods. These barriers have in fact expanded since the peace accords. They were quite tall and some houses along the fences have large metal cages over them for protection. The conflict still seemed to be in the forefront of people's minds. The tour ended at the Milltown Cemetery, which contained the grave of Bobby Sands — who famously died during a hunger strike in prison — and many other IRA fighters.