Home » Adventures » Apostle Islands » Exodus
Vacating the Islands
The next morning on Devils Island the sea looked better, although not ideal. My best comparison was the size of waves breaking on shore, which were slightly smaller than the day prior. It looked doable so I shoved out. This day would be my last on the water, and I finally had no intentions of taking any side trips. My sole goal was to exit at Little Sand Bay. With the wind though I would take an indirect, although hopefully faster, route around Bear and Raspberry Island, using them for shelter from the lake.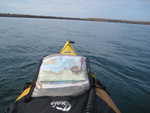 View from my cockpit (calm seas)
The crossing toward Bear was another nail bitter. I never felt in danger of capsizing (maybe that was ignorance), but had I made a mistake or an accident happened I do not know if I could have recovered in the cold, rolling seas. Although I conceded to my pride and carried my cell phone, even placing a call to the Ferret Rescue Service, had it come to that, would have been very difficult. Thankfully I never had to resort to that, and my skirt and clothes kept me dry. A few small white caps shared the lake, but otherwise conditions were alright. I was still, however, very happy when Bear Island started blocking the wind, providing calm water for me again.
Side tangent: Does Bear Island live up to its name? It had no official campsites but did posses a nice beach that could make for several good ones. Would creating those cause too much trouble with the natives? End tangent.
Leaving Paradise
The trip around Bear Island was too short and once again waves pounded my kayak going towards Raspberry. I kept paddling through, aware of the waves, my balance, wind, and my boat. Eventually, I kept telling myself, the other islands and mainland would abate the wind. I swung around Raspberry Island, taking a quick lunch break on its beach, and afterwards the seas did calm. My trajectory was also now headlong into the waves, the easiest direction to meet them.

Raspberry Island Lighthouse
I made it through this home stretch paralleling the mainland, rounding Point Detour, and finally arriving back at Little Sand Bay, completing my whirlwind 4 day/3 night, 5 island, 3 sets of sea caves, 50+ mile self-guided kayak tour of the Apostle Islands, all directly following a marathon.
I missed the sign banning kayaks from the harbor at Little Sand Bay (use the beach instead), but no one was around to ticket me. Back in my car I headed to the Northern Great Lakes Visitor Center, which combined a museum, visitor center, and tourist information. It contained nice exhibits on the area's geology, environment, and history. After topping off my brain, I once again headed away from the Apostle Islands late in the evening for a long drive home. At least this time I made it back with some time for sleep, although that unfortunately meant going to work the next morning.