Home » Adventures » Adirondacks » Split Rock Mountain & Wilmington Notch
August 2 — A Day in the Front Country
I had a short hike out of the backcountry through Garden, and then had some delicious pancakes in Keene Valley. Although being in and out of the backcountry was a little downer, it kept me well fed. The whole reason for leaving the backcountry was to get an update on my insurance claim, but of course nothing had changed, although they promised more information by that afternoon.
Going in and out of the backcountry to deal with insurance turned out better than I first feared. I did not have to carry a week's work of food and got to enjoy more of civilization's restaurants. Also, although the entire Adirondacks area was huge, making a six day continual trip through the high peaks region would have been difficult anyway.
Split Rock Mountain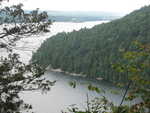 View from the South Lookout at Split Rock Mountain
For a change of pace I drove to Split Rock Mountain on the Vermont border. I may not even have known the enormous Lake Champlain existed before this trip, but here I was going for a visit. I hiked to South Lookout Point, but trees obstructed most views from it. I then went down to the shoreline and enjoyed the small waves lapping against the rocky shore while boats of all types played on the lake.
Bike Ride
After relaxing on shore, I drove back to the Adirondacks area. Despite huffing and puffing through mountains for the past couple days, I got on a bike ride since there is no substitute for sport specific training. I rode a loop of the Ironman Lake Placid course, but without the out and back portions. I had a decent ride, but fought a headwind most of the time. Riding without 2,500 bikers and a lot more cars was a much different experience. It appeared a lot of road construction was held off for the race, as I had to go through three different construction flaggers during this ride.
Wilmington Notch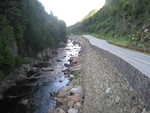 Insurance finally got their act together and made an offer for my totaled car a little higher than I expected. I guess I would be getting a new car — or more likely a used clunker. With most, but not all, auto related details flushed out, I needed to make more calls in the morning. I did not feel like hiking in and out of backcountry for just one night, so I went to the White Mountain Area and stayed at Wilmington Notch Campground. This at least provided a real campsite and a great feeling shower.
Unfortunately White Mountain closed early at 4 p.m., so I could not go to the top. Instead I browsed the surrounding touristy shops, restaurants, and scenic turnoffs along the highway. At one of them, dumb high school kids jumped into a river from cliffs, but I have to admit I was jealous I could not join them.