Home » Adventures » Adirondacks » Whiteface Mountain
August 5 — Last Day on New York
Climbing Whiteface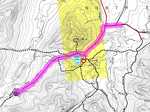 Route I hiked this morning
My last day in the Adirondacks had me up early since I had a packed day. I made the short hike out of the backcountry from Rocky Falls, past Adirondack Loj, and to my car at South Meadows Road. After changing into clean clothes, I drove back to Whiteface Mountain. I did not have a chance to see the top when I previously spent the night at Wilmington Notch Campground, so I opted for a quick trip up before I left. Of course driving would be too easy, so I instead saddled my bike and started pedaling.
I parked at a turnoff about a mile from Wilmington and rode in for a warm up before attacking Whiteface Memorial Highway. Although a road bike (or perhaps a mountain bike given the roughness of the road) would have been better, I only had my triathlon bike and race wheels from Ironman Lake Placid along, so I started climbing with that. The aerobars did not see much usage this ride though.
The climb up Whiteface Mountain was steady and relentless. It stayed around 8% the entire eight miles to the top. I hoped for a few sections that temporarily leveled off, providing rest and reprieve, but that never happened. Only very near the peak did it drop to 3% for a short stretch, which was the only "rest" the mountain provided.

The switchbacks leading to the top
I do not know if it was my attitude, or if the elevation profile supported me, but the stretch from Wilmington to the tollbooth felt the hardest. Perhaps it was the lack of shade or a breeze, or the creepy year round Christmas Park at North Pole, but once I passed the tollbooth the ride seemed better. It was by no means easy, with constant climbing, but I just relaxed and spun up in my lowest gear. Still, even with my compact crank, I would not have minded a granny gear as well.
The road had beautiful views, but I did not have much desire to enjoy them while hammering up the mountain. In a couple sections I could look ahead and see all the switchbacks extending very high above me, which was too much to take in. I had to focus on where I was and making it to the next curve.
The relentless pedaling brought me higher and higher into the air. I eventually saw the castle marking the end of the road and crossed under its gates at the road's end. It took me about an hour to make the eight mile, 3,500 foot climb, to the top. Except for paying at the toll booth, I did not stop or rest on the way up.
The road ended slightly below the peak, and visitors had to take an elevator or hike a trail to the actual apex. For the short hike the sign recommended sturdy footwear, but I only had bicycle cleats so I went barefoot instead. The walk was easy compared to what I had went through in the backcountry, but I could see how it might be difficult for people not in great shape and had driven the whole way.
The actual peak had a great panoramic of the area, and a clear day allowed me to see all around. Between my bike clothes and cars passing me on their way up, a couple people commented about me riding up and asked how it went. Although a challenge, I did not see pedaling to the top as a big deal. I sometimes forget though how when I step away from my overtraining triathlete friends, how other people look at what I do.
Descending Whiteface
I did not hang around the peak too long, with much still to do my last day in New York. I took the elevator down to the parking lot, put back on my helmet, and made sure my sunglasses were very clean for the ride down. Only two pedal strokes were required for the eight mile trip after I started the descent. The trip down was almost as hairy as the way up, although in different ways. I had not thought about this earlier, but I sweated a lot going up and rose a couple thousand feet, so I became chilly standing around. Going downhill for eight miles would not warm me much either. I did not have any arm warmers of a long sleeve though, so I would just have to suck it up for the ride down.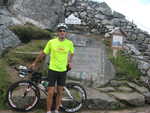 Myself at the end of Whiteface Memorial Highway
The road was also very bumpy. The mountain weather took its toll, and if I was not careful, quite a few spots would have thrown me off my bike. These were on top of the steep descents and hairpin turns that would have been challenging on a smooth road. I clinched my brakes the entire way down, eroding any break pads I had left. I could not exactly downshift into low gear and use my engine to break as the unhelpful road signs suggested.
I kept it slow and tired to stay loose on the way down. My hands and arms were sore as I rode entirely in the pursuit bars with my weight shifted forward. I did not think to bring biking gloves either. With the bumpy road I also had to be out of the saddle standing on my feet most of the way down, which was not comfortable.
I did not crash and quickly got back into town with gravity doing all the work. I had a few flat miles to my car, and realized that despite riding eight miles, my legs were not ready to spin because I had not actually pedaled at all during the way down.
Swimming
Climbing to the top of Whiteface Mountain and back was not enough of a day's workout, as while passing through Lake Placid, I did another loop of the cable swim course. I really enjoyed the cable swim and need to find a way to get one back home. With that lap over and quick shower in the beach house, I went to the shop to retrieve the last of my supplies from my totaled car and salute it goodbye. Thankfully the mechanics were able to remove the roof rack from car, despite having forgotten its key in Iowa. Maddens Garage did an awesome job dealing with my car and helping me through the accident process, going above and beyond what I expected.