Home » Adventures » Adirondacks » St. Regis Canoe Wilderness: Leaving
July 28 — Leaving One Paddling Area for Another
Portaging in SRCW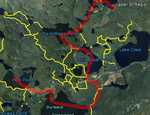 Route I paddled this day
I started early so I could reach my repair shop and insurance company about my car. A long portage that I had been dreading connected Hoel Pond to Upper Saranac Lake. The path was entirely on roads but about a mile long. Mercifully though, a couple guys at my takeout offered a ride, which I gladly accepted. This escort saved a lot of time, pain, and misery. Also, with how late I eventually placed my phone calls, allowed me to make them at all.
I got big water exposure, crossing the north end of Upper Saranac Lake before heading into Hatchery Brook. I did not know which way this river flowed (not like I had a guide book or anything), but there discovered I would fight the current. The flow was minimal though, so I advanced easily against it. The stream was very twisty, with the main channel meandering amongst the rocks and trees. Being on the water for a long continuous stretch without having to portage was a nice change from my prior days. I did have to drag my boat over a few beaver dams, snags, and roads, but only occasionally.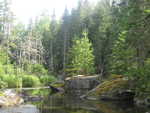 Hatchery Brook
Significantly more plant life lived on the river's bottom after it split shortly before the second private road crossing. This vegetation dragged on the bottom of my boat and often made a full paddle stroke difficult. At the actual road crossing though, I dropped my paddle and had to jump into the water retrieve it. The brook was only around ship deep, but its water rose over the top of my boots. Time to see how they hold out now, since historically damp insides have resulted in painful steps.
I hoped Hatchery Brook was navigable past Highway 30, despite the portage trail indicating otherwise, and wiggled my boat through the small viaducts to see. No dice though, as soon a discharge from the hatchery or sewer plant blocked the entire stream. I was forced to retreat back through the pipes and carry my boat along the highway. A canoe cart, which I did not have, would have been ideal, but at least the hard surface made walking as easy as possible.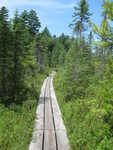 Boardwalk docks on St. Regis Pond
I crossed Little Clear Pond and elected to take the portage to St. Regis Pond, instead of directly to Green Pond. This trail looked shorter on my map and crossed fewer contour lines, so it would be easier overall, even with longer paddling distance and an additional very short portage from Green Pond. From St. Regis Pond I followed my prior entrance into St. Regis Canoe Wilderness backwards towards St. Regis Carry.
With the clean, shallow water I floated and having done AWARE just two weeks prior, I could not help but reflexively scout the bottom of the lakes, ready to yell "tire." Fortunately the lake beds were free from debris.
I made a slight navigation snafu on Upper St. Regis Lake, since I did not feel like refolding my map and guessed the wrong direction to the takeout. I may have had one or two other problems as well, but those at least let me enjoy a little more time on the water before reaching my car.
Fish Creek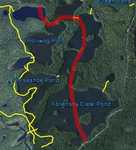 Route I paddled this evening
I went back to Saranac Lake to check on my car. Insurance estimated $4,000 to fix it, which for a 2003 Cavalier might mean it was totaled. There was probably a comment on society in there, how a minor front end collision where air bags do not even deploy can total a car. There was nothing I could influence though, as the wheels of insurance slowly turned, so I went back into my canoe.
This time I went to Fish Creek, just south of the St. Regis Canoe Wilderness. On the south end of Fallensby Clear Pond I once again hit the water after 6 p.m. The lake was busy, so I hoped nearby campsites were available. I portaged to Polliwog Pond as planned and looked for open ground. The campsites did not quite line up with those on my map, but I located an official spot anyway and enjoyed a calm, cloudy evening at camp.