Home » Adventures » Adirondacks » Backpacking to Rocky Falls
August 4 — More Hiking and a Lean-to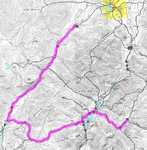 Route I hiked this day
I left Feldspar and covered the short distance to Lake Colden. There I found another very large structure backing up a river to form a lake, just like Marcy's Pond. I was headed towards the Adirondack Loj and planned to camp at Rocky Falls, but rather than take the direct trail, between Mt. Marshall and Algonquin Peak, I enjoyed more time on my feet in the woods by looping by Upper Works. Who needs to relax in camp anyway?
The well established trail towards Upper Works followed a nice river. Along it I passed many backpackers heading in or out of the high peaks. I did not go all the way to Upper Works but took a bypass trail that went straight to Henderson. While obvious in retrospect thinking about this trail, it was much less used than the others. No one hiking in or out from Upper Works would use this trail, so only crazies like me doing a loop traverse it. The path was still easy to follow, with no chance of getting lost but was more overgrown with a few more falls blocking the path. This section was one of the few infested with bugs too, which kept my arms busy swatting at them.
Indian Pass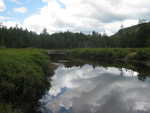 Fighting through this trail eventually brought me back to the more established path towards Indian Pass. Progress was a easier and quicker along this path…at least for a mile or so. As the trail approached Wall Face Mountain and Indian Pass it climbed substantially. Who would ever guess that a trail with "pass" in its name would climb over some elevation? In typical Adirondack's style, I did not have a march up a nice dirt path, but scrambled over slippery rock faces, tree roots, and anything else nature could throw in to make passage difficult.
I was not much in the mood for once again fighting for even the slightest forward progress, but did not have much choice since I was alone in the middle of the woods and that was where the path went. I kept telling myself that the terrain should only last a mile or two and would soon be over.
I stopped at the lookout for Wallface Mountain and had a good view of the sheer rock wall emerging from the ground. I did not see anyone trying to climb it though. I hoped the lookout also marked the top of the pass, but was disappointed with even more climbing afterwards.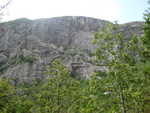 Wallface Mountain
On the way over Indian Pass, many gigantic boulders were strewn about, which I did not have to crawl over, but created miniature caves underneath. I did not try spelunking, but pockets of cool air blew from underneath them, providing some much appreciated natural air conditioning as I climbed throughout the afternoon.
The top finally arrived, which of course only meant a rugged descent, about as hard as the climb up. That eventually relented as I neared Scott Clearing, and I walked normally from beyond that. I arrived at Rocky Falls in early evening and for the first time this trip, and also my last day in the woods, I actually stayed in a lean-to. The structure at Rocky Falls was on the far side of the river, and the hop across the boulders was easy for me. Judging by the comments in the registry though, during high water this lean-to can be inaccessible.
Not having to put up a tent (and take it down the next morning) was nice, and the lean-to provided a little more area to move around. I also could hang my gear inside to dry. The only catch was the spot provided no bug screening, but the insects were not too dense in this location and never bothered me overnight.
After dinner I tried to find Rocky Falls itself, but determined it was not one big drop of water, but a long cascade of rapids and falls as the river passed through the boulders. The area was still nice, and the babble of the water was a nice backdrop to fall asleep to.