Home » Adventures » Adirondacks » Backpacking to Bear Brook
August 1 — To the Top of Mt. Marcy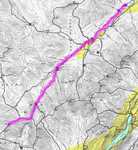 Route I hiked this day
This morning I went to attack Mt. Marcy. I hoped the trail will be more bearable than the prior day, but with another direct attack on the mountain I did not have much hope. At least I could leave most of my gear at Split Rock and climb without much extra weight.
Thankfully the trail up the north side of Mt Marcy was relatively easy. It climbed around 2,000 feet in two miles, but was hikeable, and I did not have to use my upper appendages to move ahead. I had to avoid many rocks and look down most of the way not to trip, but the trail was technically much easier than the prior day. The climb went smoothly, and once I entered the alpine zone the views opened up.
I reached the peak, which was the highest in the area. I could see Lake Placid, Whiteface Mountain, and many surrounding lakes. I took a break there while enjoying the view. It was windy, but the temperate was ideal, with a deep blue sky and only a few clouds. Like on Gothics, quite a few day hikers and packers converged on the peak while I was there.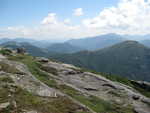 View from atop Mt. Marcy
Eventually I said goodbye and started down to my gear at Split Rock. Upon reaching camp I had a leisurely lunch before following the trail towards Gardens. It passed through luscious forest with many tall trees. The path was finally easy, and once in a while I could even look up and enjoy the views. The trail later met up with a river for a nice stroll along a brook. I missed the turnoff to Bushnell Falls, but as spectacular as they probably were, I have seen many waterfalls, so missing this one was not overly disappointing.
I took a break at John Brook Lodge, owned by the Adirondack Mountain Club. They let rooms and sold food, but I just hung out on the porch. Afterwards I made my way to Bear Brook, which unfortunately did not have a lean-to I could find, so I once again used my tent. This spot would allow an early morning departure so I could once again deal with those pesky insurance people.