Home » Adventures » Adirondacks » Antwerp
August 5 — Visiting Cassius Coolidge's Home Town
Antwerp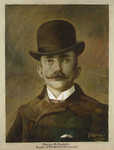 Coolidge Self Portrait
With all auto related issues resolved (at least until I got home and had to buy a car), I started heading west towards Iowa. Before I could completely say goodbye to New York though, I had to make a detour to the village of Antwerp. Why Antwerp, a town most people have never heard of? It is of course the birthplace of Cassius Coolidge, the painter of dogs playing poker. Being the curator of his unofficial website, I had to make my pilgrimage after being so close.
Antwerp was just a normal small town without much dedicated to the artist, so I was not sure what I would do there. I donned my DPP shirt and stopped by the library, which once housed a Coolidge self portrait. The librarian said it was moved to the Town Clerk's office, which was only opened in the mornings. That was what I got for no planning.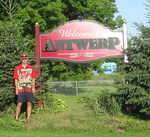 Myself at Antwerp, NY
I went to the office anyway and through the front door I saw the portrait hanging on the wall. I was lucky it was visible through the front door's window, and that no one seemed to care a random guy was taking picture of the insides of these government offices. A print of A Bold Bluff also hung on the wall, which was a nice touch.
I looked around town for any remnants of the bank Cassius founded, but saw nothing obvious. I would probably need to dig though historical records to find anything. I also walked along Hoyt St., which Cassius may have grown up on, but the houses did not look 150 years old.
Cemetery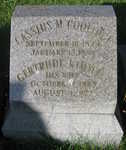 Cassius Coolidge's Grave
I went to Hilltop Cemetery where Cassius was laid to rest. I had a picture of his headstone, but did not know where he lay in the cemetery. The graveyard was not huge, but was not small either. I did not see an index for the gravestones, so I began systematically searching the area, while trying to keep the endless mosquitoes at bay. I quickly found a couple other Coolidge headstones, which were probably relatives, but no Cassius. I could recognize no clear pattern in the cemetery based on the date of death, so my only hope was to get lucky. I was almost ready to give up when I found a big "Coolidge" marker for the family burial site. Cassius's grave lay nearby, along with his wife and other relatives. I respectfully took pictures which may help me expand the family tree.
Being able to schedule some first hand research of historical documents in Antwerp would have been nice, but I did not do enough preplanning for that.
After leaving upstate New York I drove late into the night towards Ohio, since I wanted to be on roller coasters the next morning at Cedar Point.